Noir Lagos- The quintessential French restaurant in Lagos
French cuisine is one that is enjoyed by many around the world. Similar to the language, it has come to be enjoyed all over the world. French cuisine is known worldwide for its finesse and flavor. What I love about traditional French food is that it relies on simple combinations that enhance flavors of basic ingredients. French chefs are acclaimed for turning French food into what we now know as haute cuisine and simultaneously influencing the gastronomic scene worldwide. I look forward to the day that African cuisine is equally celebrated on the world scene.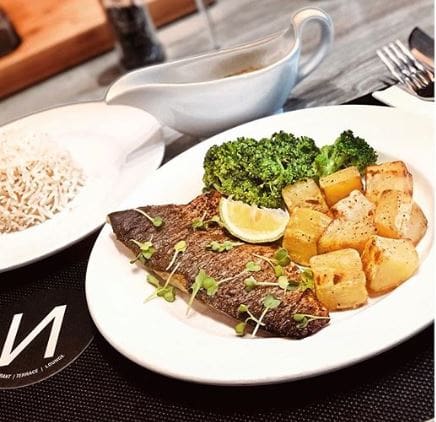 French cuisine has made its mark all around the world, so I was not surprised when Noir opened its doors in Lagos last year. Noir has quickly become a Lagos favorite for diners looking for French cuisine and an outstanding customer experience. As the name suggests, Noir is a black and picturesque building located on 4a Akin Olugbade St, Victoria Island. The first time I went to Noir was exactly one year ago and I remember feeling like it would be my new favorite restaurant and as predicted I have been back more than a few times since then. There's something chic about Noir that keeps me coming back not to mention the food is exquisite.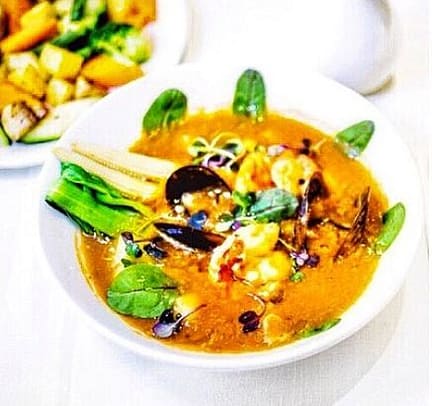 On this occasion, I came to Noir with Chibueze Ewuzie, the channel manager of the international award-winning lifestyle proposition; Xclusive plus by Access Bank. Chibueze is a young person who is connecting Nigeria's middle class to premium lifestyle services that go beyond banking through XclusivePlus.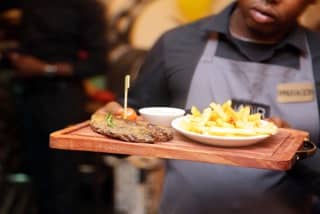 I promised to take Chibueze out for a late birthday lunch and he chose Noir, so I was happy to oblige. I got there early so I had time to explore the supermarket downstairs which is a grocery store filled with lots of exciting goodies, mostly imported from France. There is also a butchery inside the supermarket and a small cafe before you get to the main dining area. As you enter the restaurant Noir, you will likely fall in love with the decor as it is tasteful and exquisite. The furniture is timeless and the lights are warm and inviting. The artwork at Noir is also equally as impressive and edgy. Every time I have visited, the service is usually good and the staff is very knowledgeable on the menu. I know the menu quite well so I went for the steak frites, which is essentially tenderloin steak cooked well done with mashed potatoes and veggies. The steak was tender and the mashed potatoes combination was perfect. Since it was Chibueze first time he has a first timers review…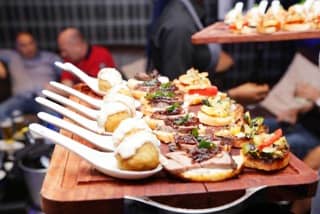 Here is what Chibueze had to say about his experience.
"One exciting item on my bucket list is traveling through Europe sampling the various cuisines of at least 20 countries, so Noir Lagos was an easy selection considering it is inspired by modern French cuisine. My experience was also much anticipated because Lehle had promised to take me out for a meal to mark my birthday and I looked forward to our conversation throughout the evening. Ordering dinner was quite easy, the waitress was pleasant and cheerful however she wasn't quite versed in the composition of the meals hence couldn't be more influential in my meal selection considering I had some questions. As a meat lover, I ordered the T-bone steak cooked medium well for that juicy texture and I wasn't disappointed. The rich brown color of the steak wasn't nearly as pleasing as its flavor which was delicious and quite filling considering the generous portion served. Cooked with just the right amount of seasoning and accompanied with the Cafe de Paris sauce for that buttery rich flavor, the fries and ketchup maintained their position as a side dish all evening while my mojito washed it all down for a truly relaxing evening. Overall, regardless of the great service, wonderful ambiance and delicious steak that Noir provides, a truly remarkable evening wouldn't be complete without good company".
Noir Lagos is the first of its kind French-inspired culinary experience that combines fine dining with a fun, friendly and warm environment. Noir as a brand focuses on giving its guests a taste of Paris in the bustling city of Lagos. Although it was initially known for its food and high-end dining experience has now transformed into fully multipurpose space decked with a supermarket on the first floor, cafe on the second, restaurant on the third floor and rooftop bar on the 4th floor. There is something for everyone. The restaurant is perfect for a dinner date, birthday celebration, drinks with friends and even a business meeting. I will keep coming back and I hope you make the time to check it out too.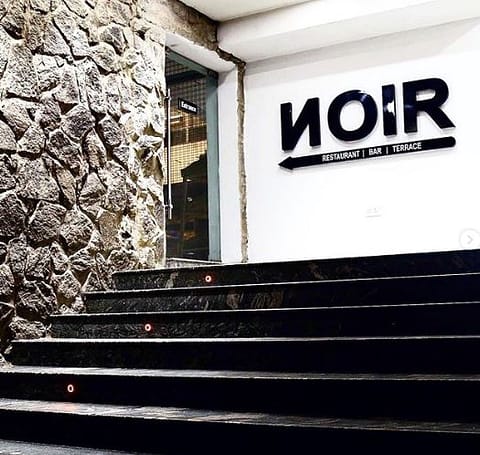 Follow us on Instagram @bdculinarydelights
Rating – 5
Total
Tenderloin Steak with mashed potatoes – N12 200
T Bone steak- N 13 800
Shrimp cocktail- N4500
N30,500
(This review was done by  Lehlé Baldé for BusinessDay Media)