The Grill by Delis a delightful mix of art, ambiance and exotic food in Victoria Island
The Grill By Delis is located on Karimu Kotun off Akin Adesola in Victoria Island. The restaurant has been around for a while and as of last year, was taken over by a new management team. As I drove into the restaurant, I immediately noticed the outdoor section, which is a pleasant seating area filled with green plants, luscious blooming flowers, and a large crystal clear blue pool. A botanical garden is what describes the outside section. There are plenty of beautiful picture worthy backdrops that I took full advantage of. There is also a well-designed indoor space that is quite classy and has exquisite African art hung on the walls. I appreciated the décor, it is tasteful and not too loud. The room was well lit and the ambiance was calm yet chic. It was a Tuesday evening so the place was just starting to fill up.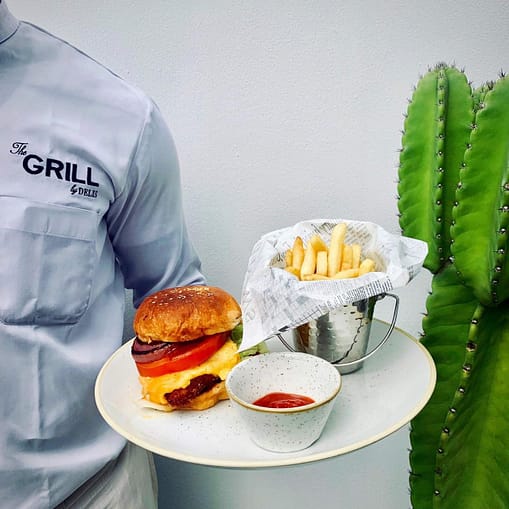 I was met by a friendly waitress who asked me if I wanted to sit outdoors or indoors. I am usually an outdoor person but because of the luscious plants, the garden in the evening is prone to insects so I chose to sit indoors. I had made a reservation the night before but did not particularly like the table given to me because it was too close to the kitchen, so after I identified where I wanted to sit, I asked to be moved and the manager was happy to seat me at my requested table which overlooked the garden indoors. I think its really important to request for your preferred seat if it is available because going out to eat should be an experience beyond the food.
I took a look at the menu and the first thing that caught my eye was the oysters, so I decided to order some while I waited for my guest. The oysters were surprisingly fresh and tasty. I have never had oysters in Lagos before and they most definitely didn't disappoint. Oysters are definitely an acquired taste, being from Senegal which is known for its fresh seafood, oysters are a part of many people's culinary pallets. Up there with caviar and foie gras as one of the world's ultimate luxury foods, oysters don't look much from the outside, but the flesh of these bivalved molluscs is tastefully succulent and delicately flavored, varying in colour from pale grey to beige, surrounded by a clear juice.
My guest on this occasion was Vimbai Mutinhiri, who is a seasoned journalist, talk show host, media personality, former big brother Africa contestant and founder of the Vimbai.com which is a pan African community of dreamers, thinkers and game changers. Vimbai is someone whose work I admire greatly so it was a pleasure to have her as a dinner guest. She is originally from Zimbabwe and has a very pan African presence so we definitely had lots of things to talk about.
After deciphering through the menu, I opted for the Veal chop with mashed potatoes and Vimbai had the grilled Salmon with vegetables and mashed potatoes. Veal has been an important ingredient in Italian, French and other Mediterranean cuisines from ancient times. The veal is often in the form of cutlets, such as the Italian cotoletta or the famous Austrian dish Wiener Schnitzel. Veal is lower in fat than many types of meats, so care must be taken in preparation to ensure that it does not become tough. I will say that veal is much different than regular beef or steak, still tasty but quite different in texture. The serving was large, so in the attempt to not waste food I asked them to pack my leftovers.
Here is what Vimbai had to say about her experience;
"Beyond the friendly staff, and ocean-fresh oysters, I thoroughly loved the understated elegant decor at the Grill by Deli's. The interior is intimate and modern, with a touch of Africa. I was a little disappointed that when I ordered my salmon I wasn't given an option as to how I would like it done, but the yummy Bee-Hive cocktail went a long way in keeping me in good spirits".
Overall our experience was fun, we were there for 3 hours and did not feel the time go by, the food came out in a timely manner and the staff pleasant. I suggest you make reservations before you go to avoid any disappointments. The space is perfect for private events, date night, an intimate dinner or lunch and is ideal for nature lovers.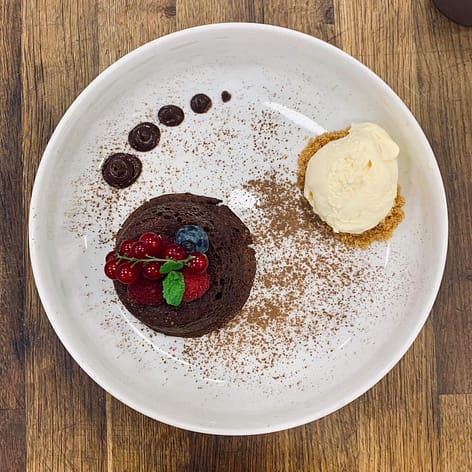 They have an extensive drink menu as well as an impressive dessert menu which I will come back for, I just didn't have any space left!
Don't forget to follow us on Instagram @bdculinarydelights. See you next week!
Total
N34,600
6 oysters- N9000
Veal – N12 800
Salmon- N12 800
Rating
4 stars
Contact 
Instagram @thegrillbydelis
(This review was done by  Lehlé Baldé for BusinessDay Media)