Circa Non Pareil the unmatched luxury dining experience in Lekki Phase 1
If you have passed by Admiralty Way lately, you most definitely have noticed a black building close to the Lekki waterside, not too far from the Ikoyi link Bridge. This majestic building that commands attention is Circa Non Pareil, the latest addition to the Lekki restaurant and nightlife scene. Circa Non Pareil is actually very befitting of its name.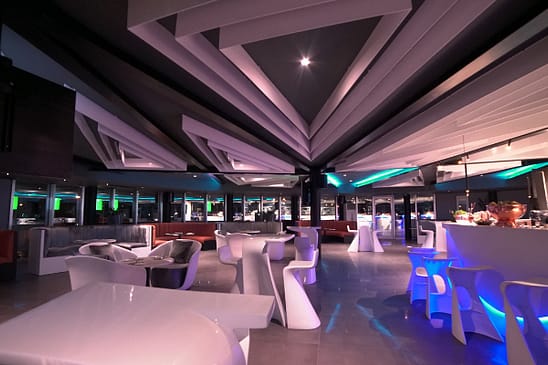 In French the word pareil means 'the same', so my expectation for a restaurant called Circa Non Pareil is that there would be no restaurant quite like it, an un matched experience so to speak, and after my dining experience, I have to say the restaurant is befitting of its name. My friend Bukky Karibi Whyte recommended the place to me and I'm glad she did.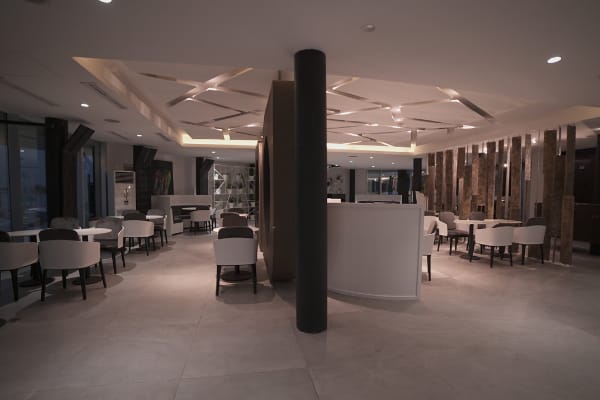 On this occasion, I went to Circa Non Pareil located on 12E Admiralty Way for a dinner with someone who I look up to and admire Uche Uzoebo. She is the Head, Distribution & Engagement at SANEF (Shared Agent Network Expansion Facilities).
Uche is a woman who is truly making a difference in the financial inclusion ecosystem in Nigeria. It is always great catching up with her. 
 From the moment we drove into Circa Non Pareil, I took note of the warm and  professional nature of each member of staff. From the guard at front gate who greeted us, to the hostess who led us to the restaurant section of the building, to the waitress  who took our orders and the ground staff who went out of their way to make sure we were comfortable sitting by the outside terrace as we wanted to watch the sunset. The staff is very well trained and guest experience is key.
Circa Non Pareil overlooks the beautiful lagoon facing the Lekki- Ikoyi Bridge and the sunsets can be quite breathtaking. Following  the beautiful sun set,  we went back inside and  ordered our meals. The menu at Circa Non-Pareil is exotic, it is exciting and mouth watering to say the least. They have everything from exotic steak cuts, shrimp-based dishes, chicken-based dishes and an array of smaller starters and drink options.
 The menu item that deserves a wow factor award is the N 90,000 24 carat gold plated Tomahawk, served with truffle, mashed potatoes, caramalised asparagus. Although I didn't order it, out of curioisty I had to inquire about how often the item is ordered, and according to the waitress it is ordered at least once a day. According to research this is the most expensive single menu item in Lagos. The equivalent of  $300 for a one of a kind gold plated tomahawk.
The executive chef Hadi Bazan is the mastermind behind the menu and we had the opportunity to talk to him towards the end of our meal. He is clearly passionate about luxury food experiences and I have a strong feeling that customers will keep coming back. His food is absolutely delicious.
The menu has so many options and after some deliberation, I had the buffalo chicken wings to start and Uche had the snails. The chicken wings tasted just right and had the right amount of buffalo sauce. I am not the biggest fan of snails or escargot as it's also called, but I actually enjoyed the small bite I had from Uche's plate.  I decided to have the ribeye steak as my main meal which was very good. It was 500 grams of ribeye cooked to perfection topped with mason butter rosemary and it was served with caramelized asparagus and potatoes wedges. 
Uche had Circa's tomahawk steak which was served with French fries and salad. She thoroughly enjoyed it. This meal is different from the gold plated tomahawk. Our meals were fresh and they came out on time. The decoration and plating of the food was stellar. Here is what Uche had to say about her meal
'I really enjoyed my time at Circa Non Pareil, the food was delicious, the drinks were tasty and the service was impeccable. The view was spectacular and I will definitely be back'. Uche Uzoebo. 
Circa Non Pareil is a multidimensional space split up into 3 sections, the indoor dining room which is on the ground floor, a second section that is more of a lounge area and the top floor rooftop which is one of their biggest attractions.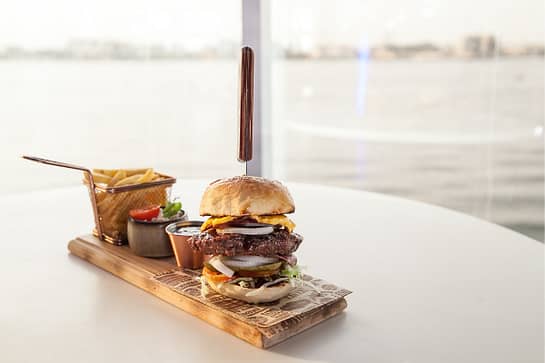 Circa is right in the heart of Lekki near the link bridge and overlooks the beautiful Lekki waterway. It's perfect for a birthday celebration, a hang out with friends, a special event or even quiet meal by yourself or with loved ones. It also has perfect backdrops for the most beautiful pictures. You can follow Circa Non Pareil on Instagram @circa_nonpareil 
I want to thank Mary Kay Obi who is the PR manager at Circa Non Pareil. She graciously assisted me with my reservation. You can follow her on Instagram @mknonpareil. I would also like to thank Dzifa Abequaye who is the customer relations manager, who was ever so gracious and kind to my guests and I and also last but not least Chef Hadi Bazan for the mouth watering dishes. 
The entire staff at Circa Non Pareil is well trained and professional. I have a feeling I will be back sooner than later.
Please let me know when you visit Circa Non Pareil and tell me about your experience! 
Total – N 67,700
Chicken wings- N5500
Snails   -N5200
Calamari strips – N5500
Rib eye -N19500
Circa's tomahawk steak- N32 000