At the Tearoom Lagos, every bite tells a story
New restaurants in Lagos are constantly opening up. The aim for many of them is to create a wow factor that will solidify their presence and clientele in the competitive Lagos culinary business. The truth is, unfortunately for various reasons many restaurants open and close within the first two years… that being said, I have a feeling that this will not be the case for the Tea Room Lagos.
Like many people, I came across the Tea Room on Instagram. The likelihood of scrolling past a post of someone you know or someone well known at this hot spot is very likely. The Tea Room Lagos opened its doors to the public in late 2018 and was founded by Denike Balogun an entrepreneur who says the concept of the restaurant was inspired by her love for unique dining and bar experience, as well as her love for the art of floristry and tea.
Upon arrival at the Tea Room which is conveniently located off Admiralty Way before the Lekki Ikoyi Bridge, I was warmly greeted by two security guards who said "Welcome to the Tea Room" which I found very charming. They then led me into what felt like a pink wonderland, a wonderland filled with beautiful things and coordinated pastel and metallic furniture. As I made my way up the unique flower filled stairs I was in awe of how beautiful it was inside.
Not only does the The Team Room radiate positivity with its unique bright decoration and picture worthy backdrops, the Tea Room also offers a wide range of culinary varieties to suit all tastes and indulgences, from mouth-watering pastries and high tea to jumbo shrimp, sandwiches, chicken escalope, a good variety of pasta and much more.
On this occasion, I had the chicken lollipops as a starter and the Chicken Cordon Bleu with fries as my main meal. Chicken lollipops are an alternative to the traditional chicken wings and these ones were delicious. The Chicken Cordon Bleu did it for me, it's deep fried chicken breast with an explosive cheese filling on the inside, the combination was simply scrumptious. My friend Bofie Itombra had a chicken burger with fries and berry smoothie and she really enjoyed her meal.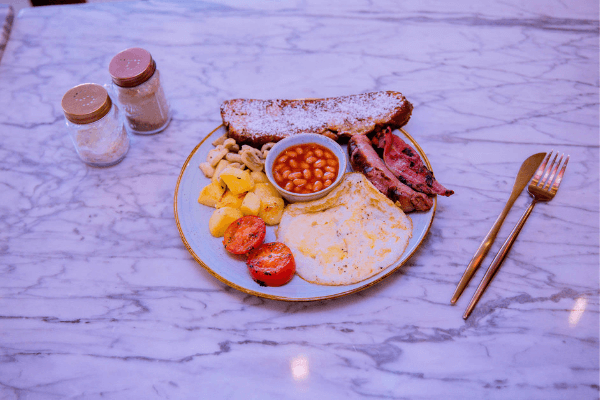 Once we were done, we had a chance to speak to the head Chef who makes the delicious food at the Tea Room, he started his culinary journey in Enugu, Nigeria where he discovered his culinary abilities watching and observing his mother in the kitchen. He later moved to Lagos to look for work and discovered new cuisines through training and apprenticeship.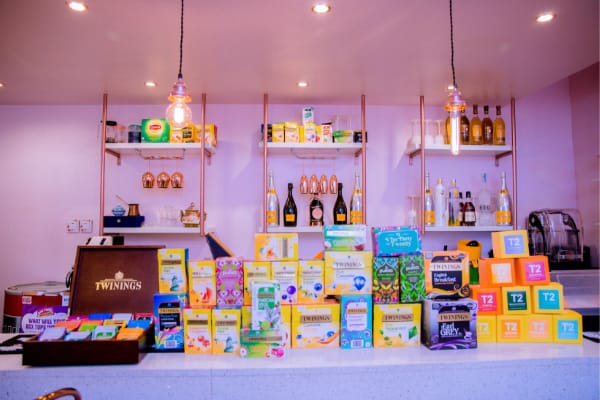 He said he particularly enjoys trying new recipes and according to him "the Tea Room Lagos is the best restaurant in town". It was refreshing to see him so enthusiastic about his talents and work.
My experience at the Tea Room was everything I expected and more. Everything about this space is soothing and relaxing. The flowers make you feel like you are in a botanical garden, the food is delicious and the service was excellent. I also love the fact that their website is fully functioning and up to date so you can check out the menu and make reservations online.
This place is perfect for a girl's brunch, a tea and pastry afternoon snack, a birthday dinner, a private event or launch, it's also perfect for a date or even a romantic proposal. I definitely recommend you make a reservation during peak hours, as the Tea Room Lagos is often full, especially on weekends.
It is truly the place for diners who appreciate good food and positive vibes and want to take beautiful pictures while doing so. I highly recommend this restaurant and can't wait to hear about your Tea Room Lagos experiences.