La Taverna: bringing you a taste of Latin American cuisine to Lagos
La Taverna is a Chilean, Italian and Spanish inspired restaurant located in Victoria Island on a secluded street called Balarabe Musa Crescent.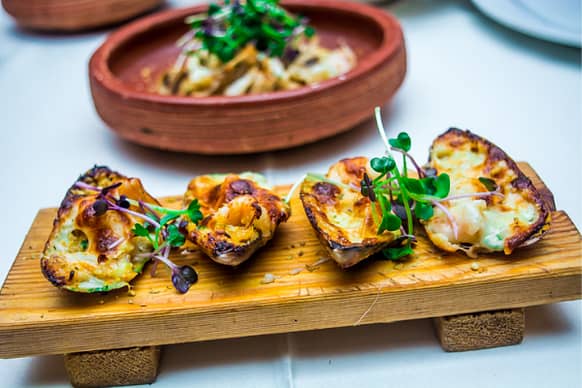 Chef Cristian Duhalde Diaz, owner of the restaurant has 23 years of cooking experience across several countries including Italy, Spain, South Africa, and Chile. The restaurant recently celebrated 6 years of operation and in Lagos that is quite a milestone, considering the turnaround of restaurants in the city.
The name La Taverna means cave in Spanish so I wasn't quite sure what to expect. Interestingly enough, when I ask my friends what their favorite restaurant in Lagos is, 4 times out of 10 the answer is La Taverna, therefore I was curious to find out why. The first time I went to La Taverna was with my friend O'tega Ogra, who works at BUA group. Ote considers La Taverna as his favorite restaurant in town, so I was excited to check it out.
The outside aesthetic of the restaurant is simple, which intrigued me to see what was on the inside. The interior has a very homely feel to it and as soon as I walked in, I understood why so many people I know say it is their favorite place to eat. I'm learning that most diners seek a wonderful, stress-free culinary experience but also want to feel comfortable and at home and that is exactly what La Taverna provides.
La Taverna has a plethora of menu options ranging from authentic Italian Pizza to all the different kinds of pasta you can imagine: Fettuccine, Alfredo, Penne.. the list goes on. There is also a good variety of meat, seafood and poultry bases dishes. I had a hard time picking what to eat but opted for the chicken Milanese which was very tasty and equally pleasing on the eye. The decoration of my meal was so beautiful, I almost didn't want to eat it. O'tega opted for the seafood pasta. My first time at La Taverna I found that the service was good, the sous chef made recommendations on what to eat, which I appreciated. We came on a Tuesday which was rather quiet, but perfect for dinner conversation.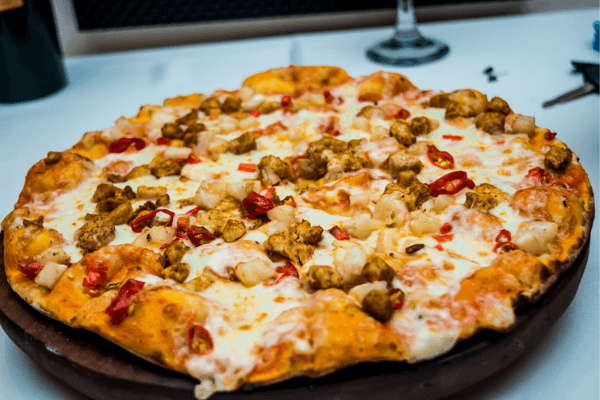 Interestingly enough, I came back to La Taverna the following week with my friend Chinonso Arubayi, who is a media personality and the founder of Look Art Me which is a cosmetic brand that women around Nigeria are starting to love. I came back because I enjoyed my first experience so much that I wanted to explore what else was on the menu. The food at a Taverna is carefully and tastefully made. Each bite excites ones taste buds and the food is very well marinated with the right amount of spices. Chinonso and I opted for a chicken pizza which in my opinion is the best pizza in Lagos because it it is traditionally made. Too many fast food restaurants have ruined my pizza experiences, as they often sell commercial pizzas that don't taste good and are overly thick. Here is Chinonso's take
" I love the ambiance, it's very cozy and homey. I appreciated the clean creative plating and food presentation. The food tasted as good as it looked. We had continental/Foreign meals which i enjoyed because it tasted continental yet warmly spiced to satisfy my acquired taste for spicy food".
This time, Chef Diaz was around and he took some time to tell us some heartwarming stories about his move to Nigeria 6 years ago and his passion for food and hospitality. He now calls Lagos home and is not going anywhere any time soon. He relocated 6 years ago, opened the restaurant and has fallen in love with Nigeria. It was great to see the passion he exuded as he described the various dishes. The recipes at La Taverna each have a special story, some ingredients are from Chile, some from Italy and others are locally sourced. He kept going to each table to ensure everyone was fine and took time to chat with the guests, which is something I don't see too often. For some restaurant owners, it's a business but for Chef Diaz, it's a lifestyle and it is evident.
La Taverna has both indoor and outdoor seating areas, it is popular amongst both local and expatriate communities and often organizes weekly themed nights. The restaurant's popular pizza meal deal is on every Wednesday and Sunday. On Thursdays, it's ladies night at La Taverna! The ambiance is calm yet exciting. The service is good, the servers are efficient and friendly and the food came out in no time. They also have a large variety of drink options for those interested.
I definitely will be making La Taverna a regular on my list of go-to places and I am glad to have discovered this restaurant. If you get the chance check out La Taverna, let us know about your experience.
Follow us on Instagram @bdculinarydelights
Photo credit to Wale Kadiri
Total for both visits
Chicken Milanese – N5500
Seafood Pasta – N5500
Pizza  –  N4500
Penne Pasta -N5500
Calamari Ajillo-  N4000
N 24 000
( This review was done by Lehlé Balde for BusinessDay Media)