Discover Z Kitchen in Victoria Island: More than a restaurant, The Z Kitchen Experience
Z Kitchen Lagos is conveniently located off Saka Tinubu street in the heart of Victoria Island, one of  Lagos' most cosmopolitan neighborhoods. They say food brings people together, so this time I knew I had to bring some friends along to experience it with me. On this occasion, my dinner companions were Peace Hyde, Forbes Africa Head Digital Media, and Partnerships/West African correspondent and Zubby Emodi MD, Times Multimedia.
Upon entry at Z Kitchen we were met by a very elegant and modern exterior, which is worthy of a wow factor award. The exterior is well complemented by an equally impressive interior.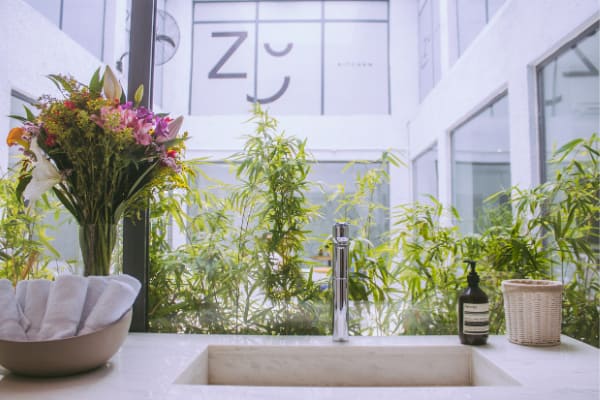 As we approached the entrance we were greeted by the valet and then by the hostess who was friendly and warm, she then led us to the seating area. In my opinion, a culinary experience should start right at the door of the restaurant and this was definitely the case at Z kitchen.
The whole ambience of this restaurant  is elegant, from the smell of the gently lit scented candles, the warmth of the lights and gentle background music .The ambiance feels modern, welcoming and warm. The attention to detail in Z Kitchen is impressive, more than the food, it's the Z experience. Simple, minimalist design yet very chic.
Here are some fun facts about Z Kitchen:
1) It is the only restaurant in Lagos with a visible meat aging chamber.
2) Z Kitchen is also the only restaurant in Nigeria that serves ostrich meat and tomahawk.
I decided to look up the menu before because I wanted to make the most of the Z experience.
For our starters, we shared  the seafood shrimp cocktail and 'Gambas al Ajillo" which is Spanish for garlic prawns. Often eaten as an entrée, the seafood cocktail is a shrimp and avocado dish topped with Marie Rose dressing.
Our starters were fresh and tasty and were the perfect light bites before our  main courses.  I decided to have the steak frites as my main course. The 'Steak Frites' is a traditional French dish which is simply French for Steak and french fries. This dish was served with peppercorn and mushrooms sauced topped with matchstick fries. The meat at Z kitchen is excellent and this particular cut was very tender. Zubby had the char-grilled king prawns and Peace had the lamb chops.
Zubby and Peace had some thoughts on their food and experience.
"Walking into Z Kitchen, though I had seen marvelous food images of their menu on social media. I wasn't too sure what to expect. However, from the moment we parked the car to go in, up until our departure hours later, their proprietors and well-trained staff made sure it was truly a welcoming and memorable experience I trusted our waiter with my food selection and was very far from disappointed by his choices – from the main course of char-grilled prawns, to the cheesecake dessert. My only regret after leaving was that I didn't order more to go. Would definitely suggest to people that appreciate amazing food and flawless service." Zubby Emodi – MD, Times Multimedia.
"Excellent eating experience, beautiful decor…from walking in the door and being greeted by the employees, seated and drink order taken, was within 5 minutes. The meal was very flavorful and served hot. The server was very attentive, friendly and helpful throughout the entire dining experience. I highly recommend Z Kitchen as an amazing dining experience in Lagos." Peace Hyde, Forbes Africa Head Digital Media, and Partnerships/West African correspondent.
The Z in Z Kitchen stands for Zeina and Ziad, the first names of the  adorable power couple that owns the restaurant. Their passion is evident and  you can tell that they  derive joy from seeing  happy customers.
Ziad is the very skilled head chef and Zeina is the client experience and operations manager. They pay extreme attention to detail and have a wonderful staff of friendly, professional and well-oriented individuals, I want to give a special commendation to James who attended to us that evening. He is charismatic, kind, very knowledgeable an absolute pleasure! Another plus about the Z kitchen is that there is something for every type of dining experience you might want. There is the main dining room which occupies a large portion of the space, but there are also pockets for more private seating arrangements, as well as a bar and a charming outdoor space.
The Z Kitchen is a place where you can go for a special celebratory dinner party, it's also perfect for a romantic date, dinner, and drinks with friends and so much more. It is THE place in town for a 5 -star dining experience.
I highly recommend this restaurant and I'm excited to give  my first 5 star rating! I can't wait to hear about your fabulous Z Kitchen experience.
Total
Shrimp cocktail N 5000
Gambas Al Ajillo N 5000
Steak Frites N 12 000
Jumbo Prawns N12 000
Lamb chops N12 000
N45 000