Experience London in Lagos, at Brass and Copper in Lekki
As the name suggests Brass and Copper, the restaurant located in Lekki Phase 1, is literally filled with beautiful and stunning brass and copper aesthetics, ornaments and furniture.
The restaurant reminds me of a very sophisticated restaurant/lounge in the heart of London's West End. Designed with tasteful furniture and culinary sets, Brass and Copper is located on the top floor of the Good Hair Space off Admiralty Way in Lekki, right behind Ebeanno supermarket. The commercial building comprises of a  popular women's hair salon called Good Hair and a barber shop called Next by Good Hair. The restaurant is owned by well-known entrepreneurs Chioma Ikokwu, Kike Osunde, and Osa Bazu.
What I like about Brass and Copper is that while creating and building the restaurant, the founders thought about the modern day consumer. The consumer that is busy and appreciates multipurpose space to get many essential things done. Any Lagosian can relate to being stuck in traffic in between errands which can be very frustrating. This is why, particularly in Lekki around rush hour, the multipurpose Good Hair Space is the space for women and men on the go.
As a busy working woman, the multipurpose space allows me to kill two birds with one stone. I usually go to Good Hair to get my hair and nails done and then head upstairs to have a delicious meal at Brass and copper and often use the restaurant to have after work meetings.  This also works for men, because there is also a barber shop in the space called Next by Good Hair.
Upon entry at Brass and Copper, you will immediately notice the attention to detail paid into the decor and feel of the restaurant. Let's just say this place is perfect for a colorful and sophisticated impromptu photoshoot.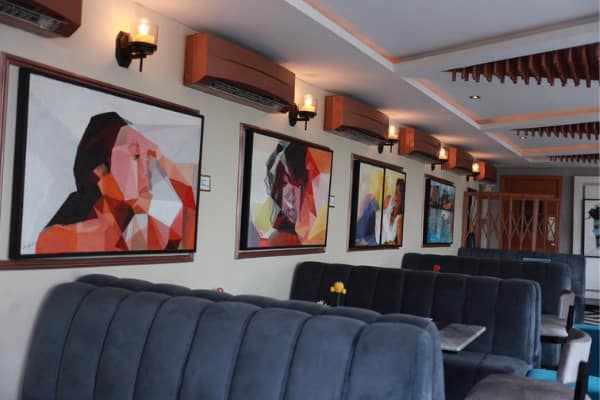 Brass and Copper is divided into two sections, the bar and then the restaurant which allows for flexibility depending on your preference or occasion.
On this particular occasion as I made my way to the restaurant section I was greeted by a very friendly waitress. As she handed me the menu she suggested  I have the grilled salmon and I agreed and my dinner companion had the seafood pasta. Both were delicious and carefully made. The meals took a while to finish because we didn't want the culinary experience to end.
The menu at Brass and Copper offers many options from your traditional Nigerian or English breakfast to delicious fish and chips or even scrumptious ribs. To top off our delicious seafood-based meals, we decided to have a strawberry milkshake called 'Tutti Fruitti' to put the cherry on top of a delicious meal.
I must say that the staff at Brass and Copper are very professionally trained and very pleasant. They are also highly knowledgeable on the menu options which is helpful for particular diners.
Brass and Copper is perfect for an afternoon meeting, a girl's brunch, an event launch, and even a fabulous birthday party. They are definitely ready to bring London to Lagos in style and you will thoroughly enjoy the experience.
Total:
Seafood pasta- N7000
Grille Salmon- N9000
2 Tutti Frutti milkshakes- N 5000
Contact