Craft Gourmet by Lou Baker a consistent Lagos favourite
Craft Gourmet is conveniently located on the 3rd Floor, Mega Plaza on Idowu Martins Street in Victoria Island. It opened its doors in 2016 and it is safe to say that it has been a consistent favorite among Lagosians for over 3 years. Craft Gourmet is one of those restaurants that everybody loves because the team and owners have dedicated their time and resources to providing repeated excellent service and food. I can say I have been here over 15 times in the past two years. It's one of the restaurants I go to the most.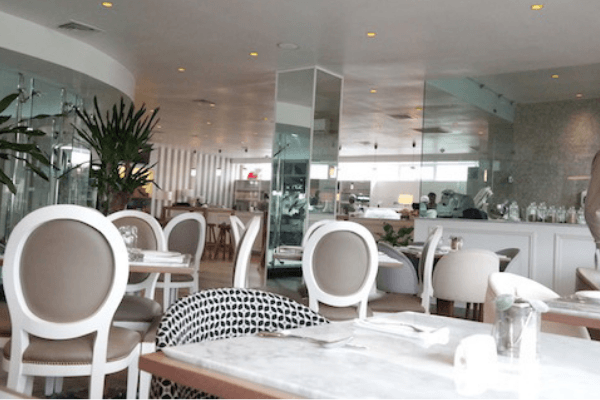 After a long week work week, there is nothing better than going out for brunch on a Saturday morning. Brunch has to be my favorite type of meal because it falls in between breakfast and lunch and can be a mix of savory and sweet dishes. On this occasion, my brunch companion was my friend Funke Shonekan who is the Executive Director at the Chris Ogunbanjo Foundation. We both love the food at Craft Gourmet and decided it would be a neutral place to catch up. Craft Gourmet's interior reminds me of Paris in the summertime… it is simple, yet chic and elegant yet has a distinguished 'home' feel to it.
As we were met by a friendly waiter who led us to our table we went through the menu and I decided to have the pulled lang burger with fries and freshly squeezed orange juice and Funke had the chicken penne pasta with a freshly squeezed green smoothie. absolutely loved my food, it was fresh, soft and very well marinated. Here is what Funke had to say about her experience.
"I like the ambiance at Craft Gourmet, every time I have been there, the staff at courteous, the food is tasty and their portions are generous and filling. I will definitely keep coming back". Funke Shonekan.
Here is a fun fact… Craft Gourmet is one of two restaurants in Lagos that offer 'Chicken Yassa' which is a rice-based traditional Senegalese dish made out of chicken and caramelized onions. I have tasted both restaurants and Craft Gourmet's chicken yassa tastes like an authentic meal made in Senegal. This might be because one of the owners is from Senegal. The restaurant is owned by a Lebanese couple and the woman, Loubna grew up in Senegal.  Let's just say it has been wonderful to have a piece of home food here in Lagos.
If I were to describe the food at Craft gourmet, here are the words that come to mind: fresh, wholesome, healthy, carefully and tastefully made culinary experiences. The owners have mixed fusion of Lebanese, African and Western cuisine and have cultivated their own unique Craft Gourmet style of food. All the recipes are inspired by Loubna's delicious family recipes. Additionally, the staff is extremely polite, professional and knows the menu well. They also are very good at recommending food from the menu.
Craft Gourmet is perfect for a catch up with a friend, a special large group event, a work lunch, a weekend brunch or even a weekday breakfast. They have a great variety of freshly baked pastries, including delicious mini chocolate croissants which are authentically made as well as fresh juices, mocktails, and cocktails. Some of the more popular dishes are the chicken and waffles, the English breakfast, spicy roast beef and the chicken avocado salad. I definitely recommend this restaurant and I look forward to hearing about your experience! 
Pulled lamb burger and fries- N5200
Fresh orange juice- N2500
Chicken Pesto Pasta- N6200
Cucumber, apple and ginger juice – N2500
TOTAL– N16 400
Guest

Funke Shonekan,
Executive Director, The Chris Ogunbanjo foundatio
n